List Games by No. Players
1+
1-10 Players
1-12 Players
1-2 Players
1-3 Players
1-4 Players
1-5 Players
1-6 Players
1-7 Players
1-8 Players
2 or 4 Players
2 Players
2+
2, 4 or 6 Players
2-10 Players
2-10+
2-12 Players
2-13 Players
2-3 Players
2-4 Players
2-5 Players
2-6 Players
2-7 Players
2-8 Players
2-9 Players
3 Players
3+
3-10 Players
3-10+
3-11 Players
3-4 Players
3-5 Players
3-6 Players
3-7 Players
3-8 Players
3-9 Players
4 Players
4+
4-10 Players
4-10+
4-5 Players
4-6 Players
4-7 Players
4-8 Players
4-9 Players
5-10 Players
5-12 Players
5-30 Players
5-6 Players
5-8 Players
6 Players
6-12 Players
6-9 Players
8 Players
8-10+
9 Players
Solitaire
Teams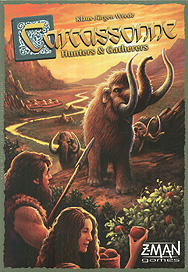 Carcassonne 2: Hunters and Gatherers
| | | | |
| --- | --- | --- | --- |
| | InStock? NO | | Login or Join to create/use a wish list |
More than a thousand years before the great city of Carcassonne was built, the area was settled by stone-age tribes. These people hunted wild animals, gathered nuts and berries, and caught fish in the nearby streams to provide themselves with the basics. Even today, there remain fantastic cave paintings and archaeological finds that provide evidence of their existence and give us an understanding of their lives.
As with Carcassonne, the game of the year in Germany in 2001, the players play land tiles to create a beautiful landscape, with scattered wild animals like mammoths and saber-toothed tigers. They populate the landscape with hunters and gatherers and build huts to live in. Rivers, filled with fish, snake through the landscape. The game also includes rare, but very useful special cards. There are many new things to discover in this pre-historic Carcassonne.... Carcassonne: Hunters & Gatherers is brand new, but retains the challenge, fun, and excitement of the original Carcassonne. Players who know Carcassonne will pick up this new game quickly. Others will learn it as quickly as players learned and loved the original. Contents:
79 land tiles
12 bonus cards
5 scoring cards
30 wooden tribe members in 5 colours
10 wooden huts in 5 colours
10 green wooden discs
1 scoring track
For 2-5 players, especially good with 2 players.
Reviews
Review Game
By
Oridyne
From
Staffs in United Kingdom
Review

This was my first Carcassonne game and I really like it. The artwork is very good and the components of excellent quality. The main mechanic is laying tiles in turn each trying to complete various scoring patterns, each tile must be placed so that side of the tile that touches another tile must match in terms of terrain type (Plain, forest, river etc.)

Players put meeples on the board to score or claim in order to score later, hunters are laid down and only score at the end of the game. There are also special tiles which can be claimed by scoring tiles with special symbols on, these tiles are placed straight away but are usually more valuable then the normal tiles you can play. The mechanics are simple but the strategies to win are what makes this very interesting and very replayable.

This is a very nice game and scales well for however many players, 2-5, you have. This is a valuable addition to anyones collection and I will always be willing to have a game of this.
---
By
Loughborough Gamer
From
Leics in UK
Review
I haven't played the original Carcassonne, but I was informed that this one is better anyway. I play this quite regularly as a two player with my wife. I haven't played it with more than 2, but I think my children will be able to play when they're a little older. I know that it scales well with more players. It's fun, a little challenging, but not so much that your brain will hurt after a hard day at work. There's a fair bit of luck in it, but I'm not one of those that denegrates that factor - because a genre I love (wargames) also has a lot of luck, to go with their depth and strategy and tactics. The card art is good here, too and it is extremely good value for the price - there's a lot in the box.
---
By
Hopuk
From
Lancs in United Kingdom
Review
This is a nice twist on the Carcassonne game. Here, instead of roads, you have rivers and instead of towns you have forests. But thats just the surface differences, as the game is scored completely differently. A meeple on a river is a fisherman and scores for the the river he is on, plus the fish in the lakes at either end of the river. Also, an entire river system can be scored by placing a hut within a river system. The number of the fish in the lakes in the river system is then added to your score at game end. Forests score when they are complete, but if the forest contains a gold nugget, the person completing the forest gains a 'special' tile from a seperate stack of tiles, while the person in the forest scores for the forests completion. In Carcassonne, the farmers are now replaced by hunters. At game end all the animals in an area are counted up and scored, with points deducted for any tigers in the area, as they eat the antelopes! All in all, if you enjoy Carcassonne, then you will enjoy this as well, IMO I think its worth owning both. A houserule we have added changes the scoring slightly: 1 pt for antelope, 2 pts for Mammoth, 3 pts for an Auroch (in special deck) 1 pt for a normal fish, 2 pts for a coloured fish (found in the special deck)
---
Board Game Geek Link for more Reviews
Discounts
5% over £50
10% over £100
These volume discounts are in addition to sale and special offer prices.
---
Related Tags
Playing Time
45 minutes
Alphanumeric
C
Game Type
Tile laying Games
Area Control
Manufacturer
Rio Grande
No. Players
2-5 Players
Author
Klaus-Jurgen Wrede
Age
8 to adult