List RPG by Manufacturer
12 to Midnight
3 Sages Games
3AM Games
4 Winds Fantasy Gaming
9th Level Games
A Realms Publication
AAW Games
Abstract Nova
ADB
AEG
Agate RPG
Anansi Games
Arbor Productions
Arc Dream Publishing
Archangel
Arion Games
Atlas Games
Atomic Hyrax Games
Atomic Overhead Press
Atomic Overmind
Auran
Autarch
Avalanche Press
Badaxe Games
Bard's Productions
Basement Games
Bastion Press
Battlefield Press
Bedrock Games
Behemoth3
Beyond Belief Games
Big Finger Games
Biohazard
BL Publishing
Black and Green Games
Black Armada
Black Book Editions
Black Dog
Black Gate Publishing
Black Industries
Black Wyrm Games
Blackclaw Games
Blackwyrm Games
Blue Devil Games
Bobgoat Press
Boneman Press
Bonsai Entertainment
Bottled Imp Games
Britannia
Brothers in Arms
Bruce Gomes Industries
BTRC
Bully Pulpit
Burning Games
Burning Wheel
Cakebread & Walton
Carnivore Games
Catalyst Game Labs
Chaosium
Chessex
Chronicle City
Citizen Games
Clockwork Publishing
Clockworks
Columbia Games
ComStar Games
Conflict Games
Corsair Publishing
Crafty
Creative Illusions
Critical Mass Studios
Crucible Design
Crucifiction Games
Cubicle 7
Cutters Guild Games
Damant Entertainment
Daring Entertainment
Dark Nebulae
Dark Portal Games
Dark Quest
Darkfuries Publishing
Daruma Productions
Dawnfire Games
De ja Vu
Decipher
Deepwoods Software
Design Ministries
Destination
Digital Alchemy
Dragon Games
DragonDyne Publishing
Dream Pod 9
Dreamscarred Press
Eden Studios
Edge of Midnight Press
Eilfin
Elder Signs Press
Elmore Productions Inc
Emerald City Expeditions
EN Publishing
End Transmission
Engine Publishing
Eos Press
Equilibrium Games
Erisian Entertainment
Evil Beagle Games
Evil Hat Productions
Exile Game Studio
Expeditious Retreat Press
Extra-Dimensional Publishing
FanPro
Fantasy Flight
FASA
Fast Forward Entertainment
Fat Dragon Games
Fat Goblin Games
FGU
Fiery Dragon
Final Level Games
Final Redoubt
Final Sword Productions
First Falling Leaf
Five Rings Publishing
Flaming Cobra
Flying Buffalo
ForgeSonges
Four-in-Hand Games
Frog God Games
GaleForce 9
Galileo Games
Gameplaywright Press
Gamesmiths
Gamewick Games
gamingpaper.com
Gaslight Press
Goblinoid Games
Goodman Games
Goulash Games
Gramel Publishing
Greater than Games
Green Ronin
Grey Ghost Press
Guardians of Order
Guild of Blades
Guildhouse Games
Gun Metal Games
Hamsterprophet Productions
Hasslefree Miniatures
Hero Games
Hex Games
Hexicon Press
Highlander
HinterWelt Enterprises
Hogshead Publishing
Holistic Design
Hubris Games
Humanhead Studios
Hunters
Ianus
ICE
Imagine Role Playing
Immanion Press
Imperium Games
Infernal Funhouse
Infinite Concepts
Inner Circle
Inner City Games
Interactivities Ink.
Ionian Games Studio
Jarnringen
John Wick Presents
Jolly Roger Games
Jon Brazer Enterprises
Kenzer and Co
Khepera Publishing
Kobold Press
Lamentations of the Flame Princess
Leading Edge
Living Imagination Inc.
Living Room Games
Loke
Louis Porter Jnr Design
Lulu Enterprises
Mad Hermit Games
Magnum Opus Press
Magpie Games
Make Believe Games
Malhavoc Press
Margaret Weis Productions
Marvel Comics
Maximum
Mayfair Games
Melior Via
Melsonian Arts Council
Memento Mori Theatricks
Mind Interactive
Mindjammer Press
MindVenture
Misguided Games
Modiphius Entertainment
Mongoose Publishing
MonkeyGod
Monte Cook Games
Moon Design
Morrigan Press
Multisim Publishing
Myriador
Mystic Eye Games
Necromancer Games
New World Games
Nightfall Games
Nightshift Games
Nine Dragons
Noble Hero Press
Nocturnal
Non-Sequitur Productions
Oakbound Studio
Obsidian Studios
Osprey
OtherWorld Creations
Paizo
Palladium Books
Pandahead Productions
Pantheon Press
Paradigm Concepts
Paragon Games
ParaSpace
Pelgrane Press
Perpetrated Press
Peryton Publishing
Petersen Games
Phipps Gaming Studios
PIG
Pinnacle Entertainment
PoD Games
Positive Roleplaying
Precedence Publishing
Privateer Press
Q-Workshop
Quintessential
R Talsorian Games
Ragged Angel
Raggedyman
Reality Blurs
Redspire Press
Renegade Game Studios
RiotMinds
Rite Publishing
River Horse
Rogue Games
Role 4 Initiative
RolePlayersINK
Ronin Arts
Rowan, Rook and Decard
RPG Objects
Sacrosanct Games
Sage Kobold Productions
Sasquatch Game Studio
Sceaptune Games
Schwalb Entertainment
Second World Simulations
Shades of Vengeance
Shard Studios
Shield
Shinobi
Signal Fire Studios
Silven Publishing
Silver Branch Games
SixMoreVodka
Skirmisher Publishing
Slugfest Games
Souvenier LT
Sovereign Press
Spartans Unleashed
Spellbinder Games
Spidermind Games
SSDC
ST Cooley Publishing
Starchilde Publications
Steamforged Games
Steve Jackson Games
Studio 2 Publishing
Studio 9 Games
Super Genius Games
Sword and Sorcery Studios
Sword's Edge Publishing
Synister
T.S.R.
Tarol Hunt
Task Force Games
Technomancer Press
Terra/Sol Games
The Cabil
Third Eye Games
Thunderhead Games
Tower Games
Toy Vault
Tracy/Curtis Hickman
Tremorworks
Triple Ace Games
Troll Lord Games
TUW
Twenty Five Edition
Twisted Confessions
Tyrant Industries
UFO Press
Ulisses
Ultra Pro
Uni Games
Valkauskas
Viking Games
Visionary
West End Games
Whit Publications
White Silver Publishing
White Wolf
Wicked Press
Wildfire
WizKids
WOTC
Wyrd Miniatures
Z-Man Games
Zeitgeist Games
Zody Games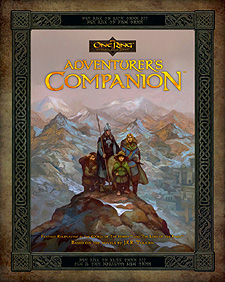 Adventurer's Companion
| | | | |
| --- | --- | --- | --- |
| £29.99 | InStock? NO | | Login or Join to create/use a wish list |
At the heart of every great story are great characters. The Adventurer's Companion for The One Ring Roleplaying Game is a guide and reference for players, designed to help them make those truly evocative characters.
The Adventurer's Companion is packed with advice to make your player-hero truly feel a part a Middle-earth, along with new character options and exciting new rules including:
New playable cultures, along with a comprehensive collection of cultures from The One Ring supplements, brought together for the first time: Dunlendings, Dwarves of the Blue Mountains, Dwarves of the Grey Mountain, Dwarves of the Iron Hills, Elves of Lorien, Men of Bree, Men of the Lake, Men of Minas Tirith, Riders of Rohan, Wayward Elves, Wild Hobbits, High Elves of Rivendell, Rangers of the North.
A new calling: The Leader, and new rules for Taking Courage.
New combat options including: Two weapon fighting, new Combat Tasks, new rules for Combat Roles and expanded Called Shots.
New rules for character development - Expanded Masteries, Training Masteries, and Mastery Dice.
Rules summaries present easy to use reference guides to Character Creation, Combat, Encounters and Travel.
A catalogue of Fellow ship Phase Undertakings from across The One Ring supplements, guidance on choosing a Patron, Famous Companies to join, new rules for yearly events and generational play with the Heirs of Heroes.
Optional rules for further detailing your character's Traits, your travelling gear musical instruments and even what you've got in your pockets, you tricksy Bagginses!
The Adventurer's Companion is an invaluable asset to all players of The One Ring Roleplaying Game.
Reviews
Review Game
There is no review for this game at the moment why not be the first to review it (you never know you might win a prize)?

RPG Geek Link for more Reviews
Discounts
5% over £50
10% over £100
These volume discounts are in addition to sale and special offer prices.
---
Related Tags
System
The One Ring
Manufacturer
Cubicle 7
Manufacturer's Code
CB71011
ISBN
978-0-85744-272-7
Spirit Games (Est. 1984, Lefglow Ltd) - Supplying role playing games (RPG), wargames rules, miniatures and scenery, new and traditional board and card games for the last 35 years
©Spirit Games
Contact Us | Policies | Postage and Package | Privacy | Links | Cookies | Site Map