History/Spirit Racing
Donington July 2023
History of Spirit Racing
Darley Moor July 2023
Cadwell BHR May 2023
Mallory Park April 2023
Darley Moor August 2022
Festival of 1000 Bikes
Brands Hatch 7-8th May 2022
Spirit Racing 2022
Spirit Racing 2021
Spirit Racing 2020
Cadwell September 2019
3 Sisters August 2019
MRC Track Day July 2019
Spirit Racing 2019
Spirit Racing 2018
Spirit Racing 2017
Spirit Racing 2016
Spirit Racing 2014
Spirit Racing 2013
Spirit Racing 2012
Spirit Racing 2011
Spirit Racing 2010
Spirit Racing 2009
Donington July 2023
A good result at Donington really requires a fast bike and a brave rider, so this was always going to be a problematic meeting. I also have a history of things going wrong there, but it is local, so I thought I would give it a try anyway. The day before I was suffering from a heavy cold, but it is amazing what £440 of entry fees can do to concentrate mind and body, and I staged a miraculous recovery to get set up, signed on and scrutineered on the Friday. No noise testing required, due to the noise of the bikes being drowned out by passenger jets taking off from East Midlands Airport, which saves a bit of bother; it also meant that I could remove the home-made end caps from the Morini exhaust in the hope that it would go a bit faster, as the carb settings had been done without them. I was on my own as Sally had that same cold and was in a grim state, but in the race paddock there are always willing hands available to help get the bikes out of the van etc.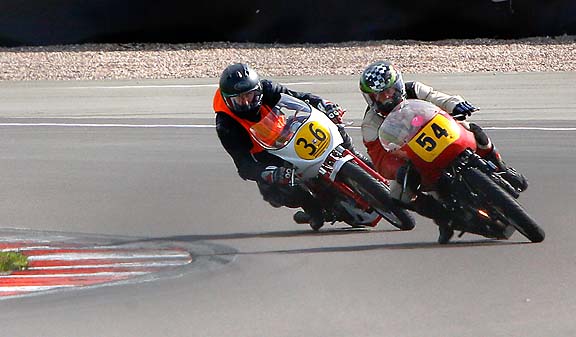 Two Morinis at play
Jenny was coming up to help over the weekend; on Saturday she was held up in traffic but my friend Doctor Jason arrived in time for the first practice, which revealed how much I had forgotten about the circuit, which is a tricky one. There was also practice on the Cub, which sounded and felt fine but was refusing to get up to max revs in top gear. In the first race on the Morini I had an entertaining dice with a TZ Yamaha, which was fast on the straights but slow on the bends, and trying to get past both of us was a friendly newcomer on a rather smart 400 Morini. My friend Adrian turned up and with the weather holding up it was all rather pleasant and sociable. However, things took a turn for the worse when the Cub emitted a horrible death rattle in the warm-up lap of its first race. Frustrating, as the 200cc Four Stroke race featured an equally slow MV175, and we could have had some fun battling for last place rather than the poor chap being left on his own.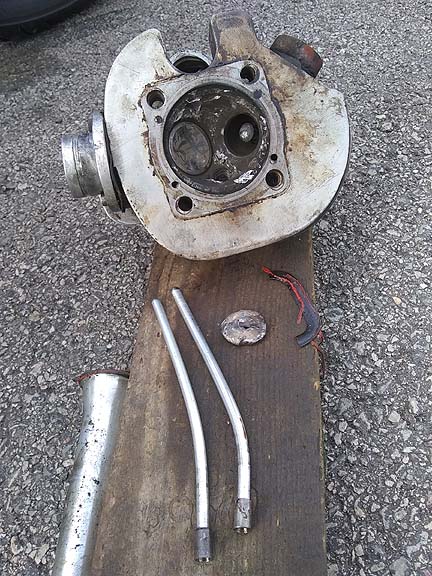 Carnage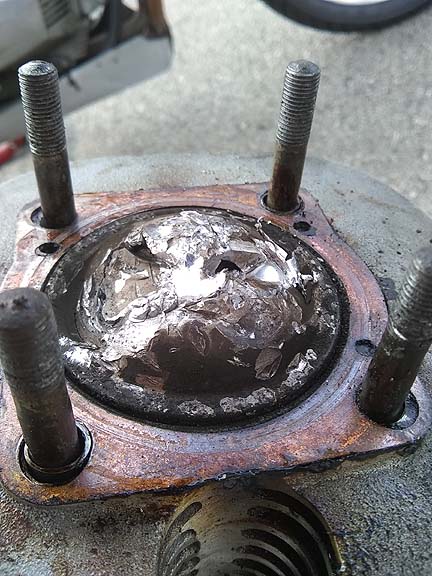 Not a pretty sight
In the afternoon I was looking forward to a re-run of the morning's fun, but I was inexplicably slower and was left behind by Mike on his Morini. On Sunday morning I got my act together again, keeping ahead of Mike but not the Yamaha, then went slowly again in the afternoon to be firmly beaten by both of them. Perhaps a younger friend's theory that I need afternoon naps is turning out to be true…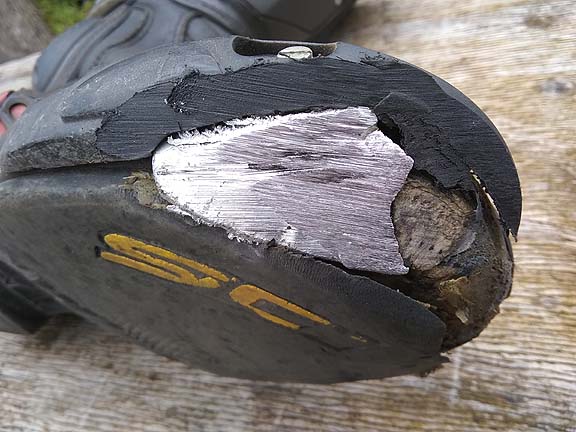 The aluminium boot reinforcement was largely worn away - it is not as if I wasn't trying.
History of Spirit Racing
Spirit Games evolved from Spirit Racing and Entertainments back in the 70's - this in turn came from Phil's Triumph being taken to race meetings in a VW microbus by the owner of Spirit Disco. After all the records were stolen at a gig, Phil bought the equipment with a view to resurrecting the disco and for use by Sally's older brother in his band. After his racing bike was also stolen the equipment had to go, the road bike was used on the track but that too had to go to finance the production of the game Strat-ops in a wholly unsuccessful attempt to make some money. The first shop, set up in Croydon in 1984, was initially a by product of promoting the next game, Starsearch, and a somewhat autobiographical game was produced shortly after this - Shoestring Racer. Tiny batches of all three games are still occasionally produced upon request, Phil still takes a Triumph round a race-track a couple of times a year, and Sally's brother still plays in a band, so we are doing our best to provide some continuity in the bewildering modern world

Following a move to the fine town of Burton upon Trent (which consists mainly of breweries), a second shop was opened in 1988. Four years later the early Nineties recession, plus a Games Workshop and a Virgin Games both opening around the corner, put paid to the Croydon shop. With board games going out of style most of them also went out of print, so the remaining shop was heavily reliant on roleplaying and wargaming, which did not quite add up to enough trade - in the nick of time Magic: The Gathering arrived, and kept things going until the board game revival led by Settlers of Catan. Within five years the shelf space needed for all the board games had increased from 5 feet to 100 feet, and 114 Station Street was added to give us enough room. Another 5 years on, and 115 Station Street became available, so we expanded sideways and moved out of 98, life being much easier in one big shop than in two little ones on opposite sides of the road. With no further room for expansion, we just kept cramming more stuff in somehow. Around 2014, we moved to the end of the High Street, a better position and a better layout in the shop. We had a few good years but by the time covid hit we were working all hours to keep things afloat, so retirement beckoned, leading to the current online setup.