History/Spirit Racing
Donington July 2023
History of Spirit Racing
Darley Moor July 2023
Cadwell BHR May 2023
Mallory Park April 2023
Darley Moor August 2022
Festival of 1000 Bikes
Brands Hatch 7-8th May 2022
Spirit Racing 2022
Spirit Racing 2021
Spirit Racing 2020
Cadwell September 2019
3 Sisters August 2019
MRC Track Day July 2019
Spirit Racing 2019
Spirit Racing 2018
Spirit Racing 2017
Spirit Racing 2016
Spirit Racing 2014
Spirit Racing 2013
Spirit Racing 2012
Spirit Racing 2011
Spirit Racing 2010
Spirit Racing 2009
Darley Moor July 2023
The weather forecast for Friday was pretty awful, but actually it was not too bad and scrutineering and signing on were achieved without undue suffering, and we were back home in good time for fish, chips and beer in the evening. A small fish and very few chips for me, the Cub does not need any extra weight to carry. Saturday dawned windy but largely dry, so no need to empty water out of the carburettors, the bikes having been left to fend for themselves at the circuit overnight while we were snug in bed. Sally has Wimbledon finals to watch on the telly so was certainly not going to spend the weekend at a wet and windy racetrack, John was marshalling at the circuit so while helping on Friday was unavailable for the weekend. Jenny was coming to help, but not until later in the morning, so I had to get both bikes noise tested on my own which was a bit nerve-racking as the queue was long and slow, with the practice session following soon after. In the end it all worked out OK.

First race was on the Morini, in the 500cc BEARS class. Alas, there was only me as a 500 bear, so the only immediate competition was a BMW in the 1000cc BEARS, also on his own in the class – being twice my engine capacity, I was going to have my work cut out. Most of the rest of the bikes out with us were newer, faster Japanese bikes, hard to keep up with so it was no surprise to find myself close to last, especially as the gear change problem was still returning intermittently. Then, a couple of laps from the end, the gentle rain turned into a fierce squall. I was less freaked out by it than some of the other riders, and I was able to get past several bikes, including the big BMW, so pride was salvaged.
Next race was on the Cub, which usually gets beaten by all but one of the Bantams. Also out with us were some 125cc Hondas, comparable to the Cub, and assorted 250 and 350 bikes including two very fast Ducatis. But the rain continued, and with my new tyres purchased at vast expanse at the beginning of the year, I was hoping to do better than usual. And so it proved, coming 5th out of 12 finishers, beaten only by the two fast Ducatis, an obscenely fast Bantam, and a 250 MZ. The best result in recent times!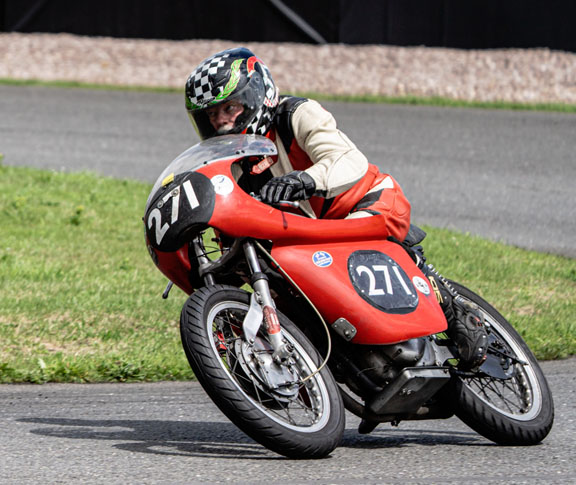 Picture taken when it wasn't chucking it down.
In the next race on the Morini I joined several other riders in pulling in when the wind got up and was trying hard to blow us off the track; combined with crap visibility under rain-darkened skies and the gearchange still playing up it was no fun at all and I was almost last anyway. Out on the Cub again, conditions had improved somewhat and the other riders were feeling happier, so I was well down, but still ahead of Darren's Bantam that had been my main competition at Cadwell.
On Sunday the weather was much improved, though still windy. Something was amiss with the Morini, though – I struggled round to a finish, trying to work out what the problem(s) might be. The Cub went OK in its race but I was beaten by Darren, and also by Ben, who had brought my van back for me when I broke my elbow back in 2019, who was on a CG125
Over the lunch interval I investigated the Morini, finding that the back brake was sticking on, which explained the holding back on the straight. Out with the back wheel to find that there was no obvious reason for it – importantly, there was nothing dangerous going on, such as a loose brake shoe. For the time being I would just have to hook the lever back up with my foot if necessary, and I lubricated everything in sight too, including the gear linkages while I was at it. The carbs were emptied and the jets cleaned, and a slightly suspect ignition wire connection was improved.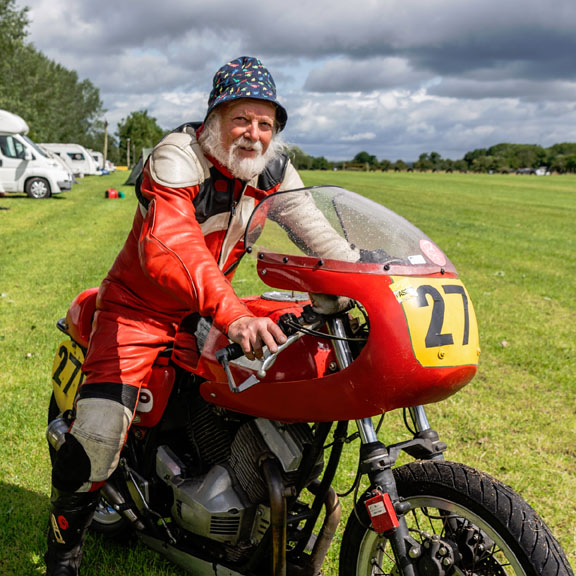 Posing for the nice man who took today's pics. Wearing my dinosaur hat, appropriate as I was about to go out for the oldies race.
It was then as ready as it could be for the Over Fifties race. Result! The Morini was pretty well behaved, and while I was 10th out of 15 on the road, it is a handicap race, and once allowance had been made for the much faster bikes included, I came 4th, and I'm happy with that.
The next race I was also on the Morini, and I was able to avenge myself on a T500 Suzuki and an SR500 Yamaha that had beaten me previously. In an earlier race the Suzuki kept flying past on the straight, but I would out-brake him on the last bend. On the second or third time another fast bike came alongside and chopped in front of me – I had to brake to avoid him and as a result the Suzuki got away from me. It was good to set that straight.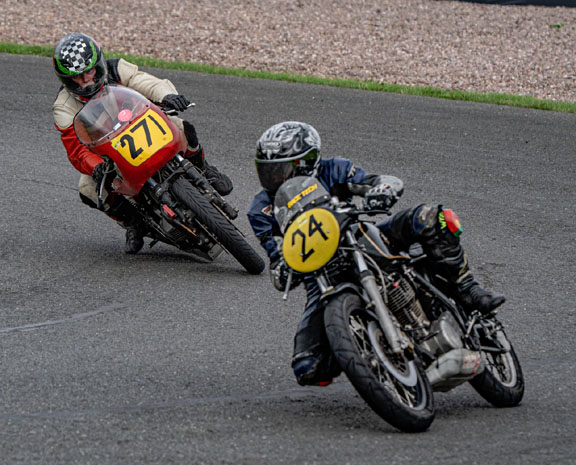 The 500cc Yamaha - a 4-stroke like the Morini - was my closest competitor. He kept ahead of me for 3 races but I finally caught him on Sunday afternoon.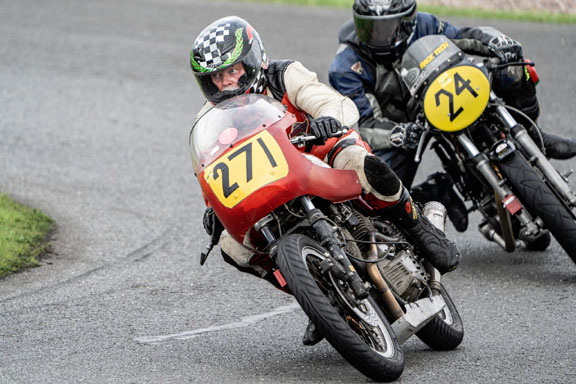 My last race was on the Cub, it was still feeling happy and so was I. I got my nose ahead of Ben at the first chicane but a Bantam rider got things wrong and bounced off a curb to land in front of me. I missed him, and he waved an apology, but Ben had escaped and was quite a way ahead. I reeled him in steadily and got close but ran out of laps. Darren was going really well and finished some way ahead. Still, in the end I was 10th out of 18, so not too bad.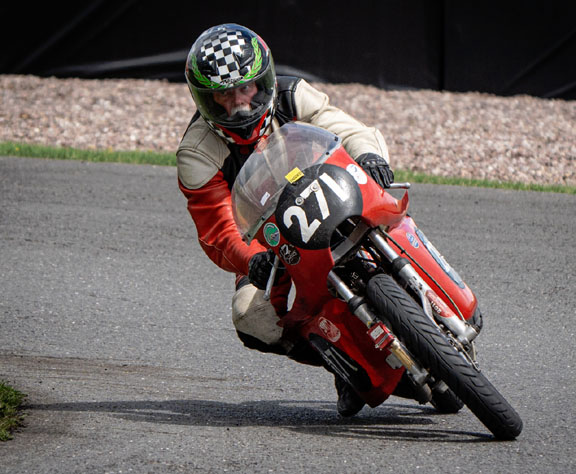 On Sunday the Cub showed that it can beat most of the Bantams in dry conditions too, sometimes.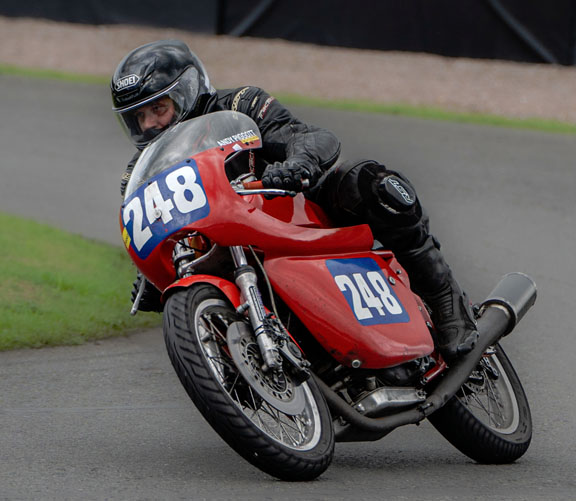 Our friend Andy Piggott was consistently in 2nd place on his 350 Ducati, which is Way faster than the Cub.