First priority after Three Sisters was to investigate the Morini forks thoroughly, and getting the front wheel in the air revealed that a clamp bolt was loose and the headrace adjuster nut was rapidly unscrewing itself. Having the front wheel properly attached should help. I should have spotted that at the circuit, of course...
The Cub was checked over with all well, the Daytona remained neglected with house repairs taking precedence when the weather was suitable, and a 175cc Morini taking up residence. Not mine, but for me to borrow subject to sorting it out first – this involved changing a tyre, swapping a wheel and exhaust system, making brackets to suit, and finally fuel-proofing and respraying a new fuel tank. All done just in time for Cadwell, the engine had fired up and sounded good previously, but was reluctant at a planned final check and our starter roller motor has taken to smoking ominously.
So, off to Lincolnshire on Friday afternoon, arriving in time to get all three bikes scrutineered and signing in done. Jenny was due to join us with her newly purchased Ducati, but came over ill with a nasty infection on Thursday night. Having booked into an hotel with her partner, and it being too late to get a refund, she bequeathed the room to us, to Sally's great delight. Our friend John, a marshal at the meeting, scrounged a bed with a friend just up the road in Louth. A threatened storm largely passed us by and we left the bikes snug in the garage tent while we drove to the hotel and had a rather fine birthday meal.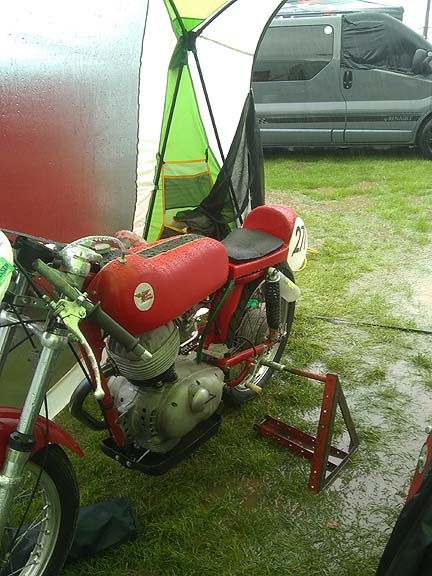 The 175 Morini sheltering from the increasing rain.
The weather forecast was far from great for Saturday, but after some overnight rain the track had dried at least in places, and I was able to take the 175 Morini out for practice. It went OK, sometimes pulling cleanly but sometimes holding back, so a good check of the carburettor looked advisable. Another problem was that the gear linkage needed reversing to give the same up for down, down for up movement of the foot to change gears as on the other bikes, to avoid confusion, but the bracket for the exhaust was in the way – something best sorted in the workshop. At any rate, the planned try out had been achieved, so that was a good start.

The Morini gets off the line alongside the main opposition.
I was out in race 1 on the 500 Morini, there were still some damp patches (I tried one for size and it was definitely slippery), so while the leaders achieved some quite astonishing times, most of us were a couple of seconds off our best. Frustratingly, the cutting out under acceleration was still evident, especially going up the hill at Coppice and round Charlies – I was dropping back there from the group I normally dice with, catching up further round the circuit but ultimately finishing a few seconds behind. I was safely ahead of my usual competition in the 500 class, but as well as a very fast BSA B50 we also had the pleasure of Nigel Palmer's company on an even faster 500 Ducati. He had not been seen for a year or two since he achieved notoriety at CRMC meetings, his riding style is, shall we say, uncompromising. Net result was a third in class for me, so I now have a Cadwell podium hat to go with the one I won at Oulton Park– a decent start to the day.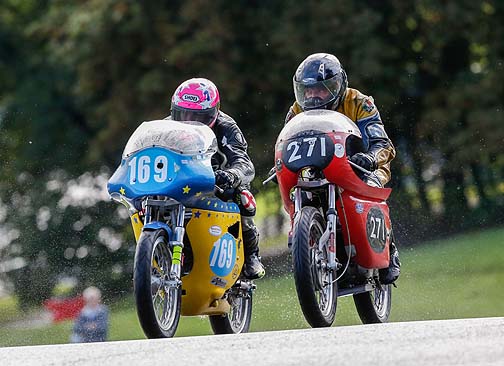 A 350 Ducati comes flying by.
By race 4 the wet weather was settling in, not a problem on the Cub and I finished with more Bantams behind me than ahead, along with several 250MZ's, a 350 Ducati, a 350 Velocette and a Rudge. Needless to say, Mervyn Stratford on his 1934 250 Rudge was well ahead of me, he bought the bike for £5 in 1967 and the advancing years have barely slowed him down. As it happens, I bought my first Tiger Cub that year too, it cost me £20. How times change.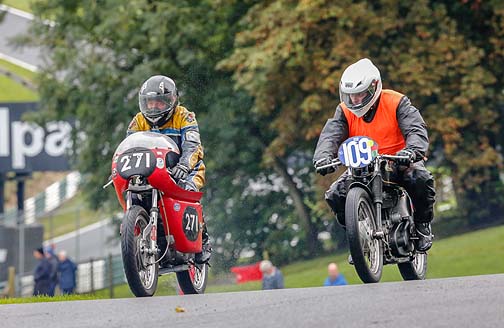 Getting past a 350 Velo.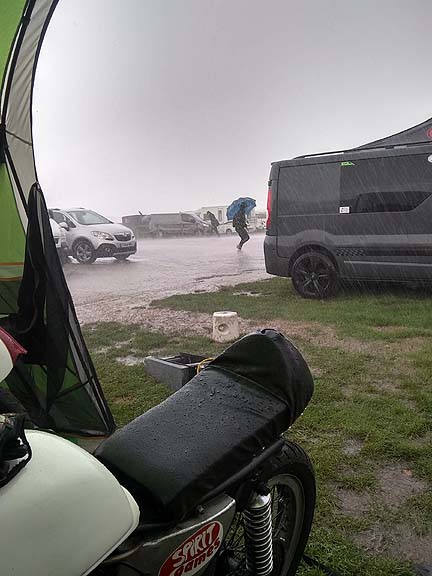 It starts getting stormy.
The weather now turned increasingly nasty, lunchtime was called early and there were frequent stops thereafter to let the track drain in the intervals between downpours.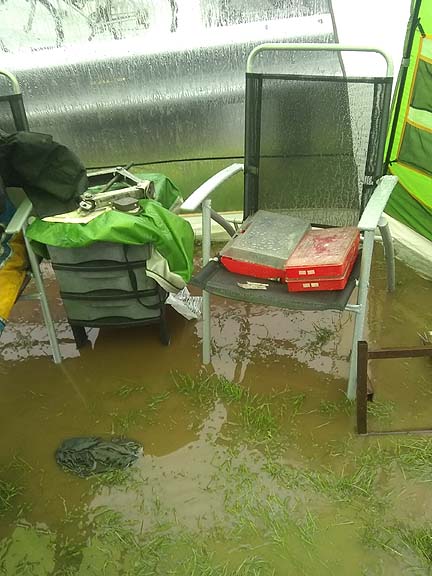 The garage flooded out.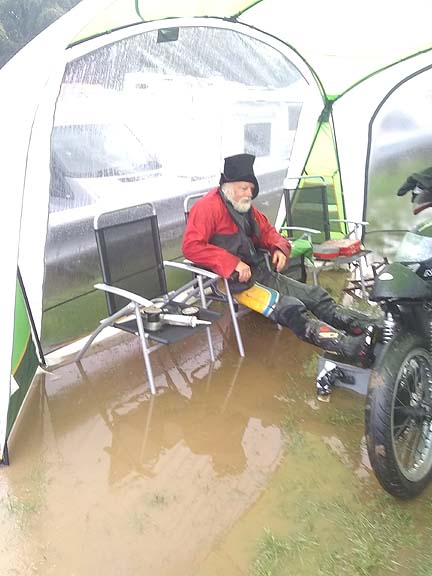 Trying to keep the feet above water.
In due course I went out again on the 500 Morini, though several of my fellow competitors decided against it. I was sure that I was going far too slowly, and the lap times confirmed this, but still felt the back tyre slide a couple of times. Then, on the second to last bend the hairpin, on the last lap, the back end whipped right round, throwing me down the road in an arc instead of the usual gently sliding off. My left elbow took exception to being landed on, and the evening was spent in Grimsby hospital. Fortunately our friend in Louth (whom we had been due to meet in a pub for dinner) was very familiar with the place and took Sally up to collect me, and after x-rays confirmed a break I was strapped up ready for presenting myself at the fracture clinic at Burton Hospital in due course. Our Louth friend (take a bow, Paul Emmerson) took us back to the hotel at 2.00 a.m, and collected us after breakfast and checking out. John abandoned his marshalling duties to concentrate on helping us to take down the tent and load up the van amidst further storms; by mid afternoon the meeting was abandoned due to the weather. John had tracked down a driver for our van, I acted as navigator and Sally went back in John's car.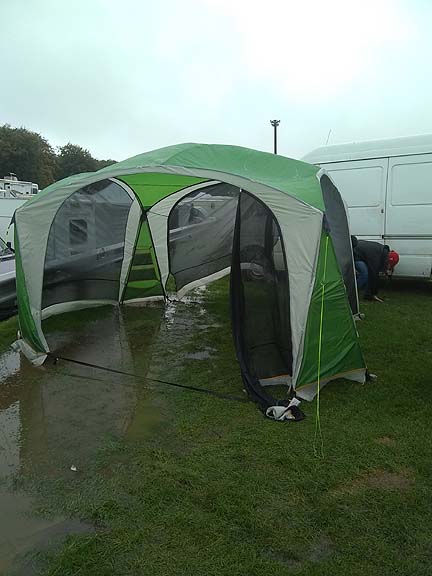 Dismantling the garage between gusts wasn't easy.
So that is it for this year, the Morini will be straightened out once I have both arms working. Then we will see what next year brings...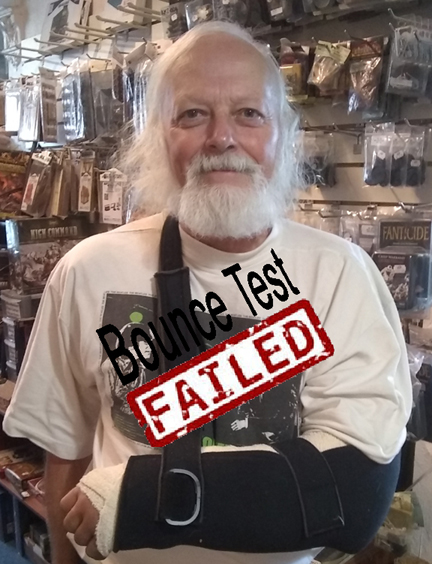 !!!