What a difference a day makes...
Saturday dawned much brighter than expected, and having got scrutineering out of the way on Friday, Jenny and I both got through noise testing OK and it was all systems go. The practice session revealed that the Morini is still not running right, but we were soon out for the first race on the Cubs, and they both made it to the finishing line, even getting ahead of a couple of Bantams on the way. Much celebration as that is something we had failed to achieve all last year.
Next up, time to take the Daytona out, having brought it as a back-up in anticipation of continued Morini problems. An excellent race was had, battling with several bikes, and although a 500 Ducati beat me to the line my best lap time was faster, so I kept my class lap record which I was chuffed to realise that I held from last year. I was also faster than I was last year – also pleasing. Alas, Jenny's bike started playing up and she pulled out of the second Cub race.
Due to many and varied delays the races were well behind schedule, so Sunday started with what should have been the second BEARs Saturday race. The time shortage also meant that there was no test session in which to try the Morini out again, so I went out on the Daytona, was over-cautious on the cold track and went slower than the day before. In the next race Jenny's Cub still played up despite a battery recharged overnight – frustration. Mine was going well and I was confident of getting ahead of an extra Bantam when the engine suddenly stopped with a nasty clatter.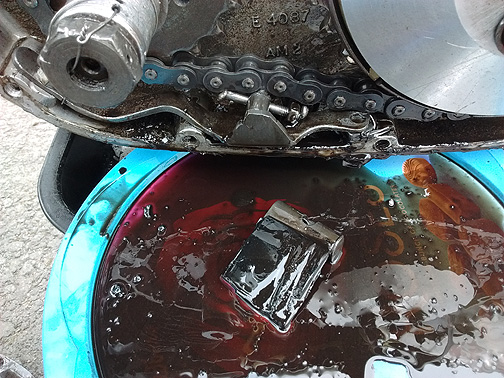 We hoped this might be the extent of the damage.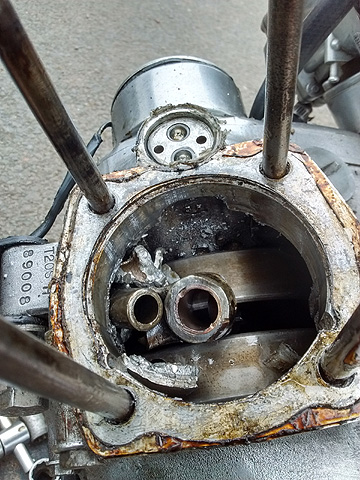 Upon further inspection this wasn't the case.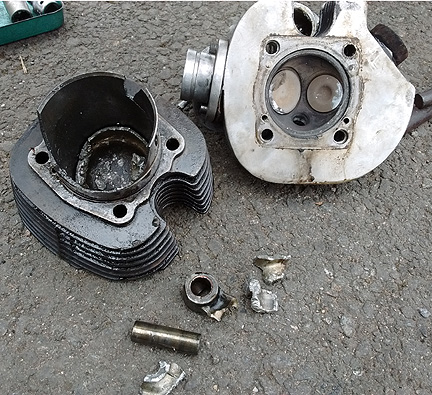 Even more carnage. The barrel broken and the conrod bent nearly 180 degrees before snapping, and both valves bent.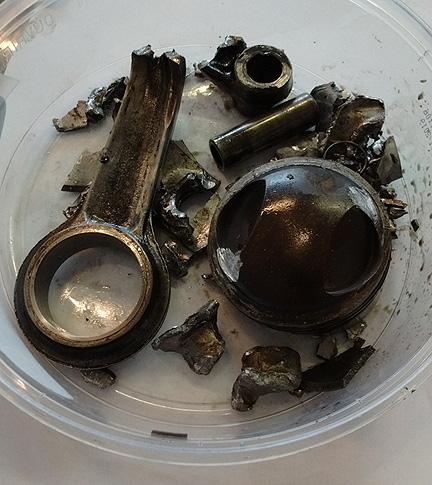 The whole sorry tale in one shot
A broken chain? No, much worse than that, and to add insult to injury I allowed myself to get too distracted by the post-mortem and missed my next BEARs race. The Morini had fired up OK and I was keen to try it out, happy enough to use the race as a test session since a new competitor had turned up, a fast rider on a VERY fast bike- a Seeley Weslake, distantly related to my Triumph rather as a Tornado jet is related to a Sopwith Camel. OK, a Meteor, perhaps. Anyway, my lap record is well and truly gone.
Two races left to go, and it started raining. Aha, a chance to try the brand new grippy tyre on the Morini, except that it would not grip on the starter rollers and the new sticky-backed abrasive sheeting would not stick in the cold and wet. So back to the Daytona, where the suspicion that its back tyre is getting past it was confirmed by sliding much more readily than hoped and once again I was well off the pace. So for the final race I was determined to use the Morini, and having found someone with extra-grippy starter rollers we fired it up – on one cylinder only. It would not run on the other one, and it was now too late to change to the other bike, so that was it for the day. Load up van and trailer, go home, get drunk.