History/Spirit Racing
History of Spirit Racing
Mallory CRMC 2018 8/9th September
Donington CRMC 2018 3/4/5th August
Darley Moor CRMC 7/8th July
Lydden Hill BHR 23/24th June 2018
Oulton Park CRMC 26/27th May 2018
Interlude
Thunderfest, Darley Moor 6th May 2018
Mallory Park BHR 14/15th April 2018
Spirit Racing Mallory Test Day 2018
Spirit Racing 2017
Spirit Racing 2016
Spirit Racing 2014
Spirit Racing 2013
Spirit Racing 2012
Spirit Racing 2011
Spirit Racing 2010
Spirit Racing 2009
Thunderfest, Darley Moor 6th May 2018
So, three weeks after the blow-up at Mallory, the Cub is back together again, with a special racing piston in a nicely honed barrel so it should not need too much running in, and Thunderfest provides an opportunity for a few careful laps. The event starts with a few laps of practice, then there is a timed session of a few more laps, and after the times have been seen a speed is chosen by each rider. In the final session of 20 minutes + 2 laps the aim is to match the chosen average speed.
Last year I set the time on the Cub, but got tempted to take the Daytona out for a blast in the final session so was third fastest but came third from last in what the event was actually about. This time I was again using different bikes – the Cub for practice, the Morini to set the time, so that I could see if it was running better after the latest fettling, and the Daytona to use if the Morini was still not right. At least I have last year's times to look at so guessing the right speed should be rather easier.

The day started astonishingly well – it was a May Bank Holiday, and the weather was dry, sunny and hot! Almost unheard of, especially at Darley Moor. I had fun on the Cub, keeping the revs down on the straights but catching people on the bends. Jenny was on her newly acquired Morini 125 racer, also taking it easy until I rode round her at the hairpin, when she pulled her finger out, gave it some wellie, and disappeared into the distance. On the last lap I tried opening the throttle more – and felt the engine tighten up. Coasting to a halt by the entrance to the track, there was Jenny, her bike having suddenly stopped. It turned out to be a blocked jet in the carburettor, easily sorted, but the bike continued to misbehave and she had a miserable day after such a promising start. Bloody motorbikes...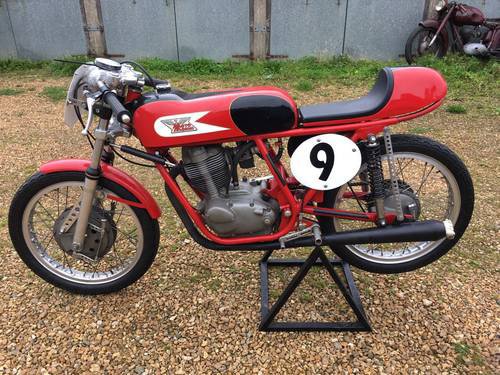 No action shots of the new Morini as it didn't do much, but here it is when Jenny first bought it.
So, how would the Morini go? Fine in the wiggly bits and accelerating out of the bends, but it refused to run properly at high speed. Back to the Daytona for the final session then, I estimated the speed at 2 1/2 mph slower than last year, allowing for the Daytona maybe not being at its absolute best – and I could always back off a bit at the end. Of course, I didn't back off, so ended up 1.78 mph too fast, but 10th out of 27 is a great improvement on last year. Maybe I'll get it right next time!
Spirit Games (Est. 1984, Lefglow Ltd) - Supplying role playing games (RPG), wargames rules, miniatures and scenery, new and traditional board and card games for the last 35 years
©Spirit Games
Contact Us | Policies | Postage and Package | Privacy | Links | Cookies | Site Map