History/Spirit Racing
History of Spirit Racing
Mallory CRMC 2018 8/9th September
Donington CRMC 2018 3/4/5th August
Darley Moor CRMC 7/8th July
Lydden Hill BHR 23/24th June 2018
Oulton Park CRMC 26/27th May 2018
Interlude
Thunderfest, Darley Moor 6th May 2018
Mallory Park BHR 14/15th April 2018
Spirit Racing Mallory Test Day 2018
Spirit Racing 2017
Spirit Racing 2016
Spirit Racing 2014
Spirit Racing 2013
Spirit Racing 2012
Spirit Racing 2011
Spirit Racing 2010
Spirit Racing 2009
Mallory CRMC 2018 8/9th September
Post-script: Mallory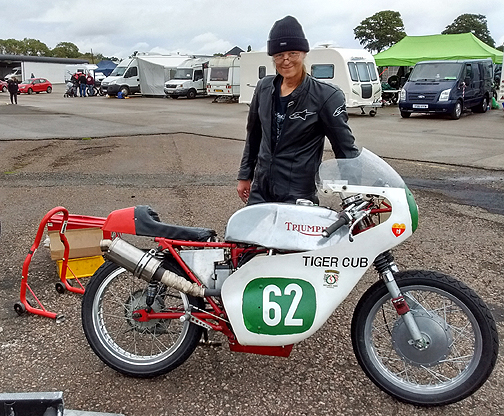 Jenny and her cub.
Just when we thought it was all over, Jenny offered me a ride on her Cub. When I had working bikes, I had intended to enter the late September BHR meeting at Cadwell, despite the lack of income, as a birthday present to myself. Jenny was entered for Mallory in early September and offered to share her rides as an alternative birthday present. A lovely gesture, and it would have been churlish to turn the offer down, even though I was very aware that it had not been running right when last used. A bit of work had been done on it, but nothing that had pinned the problem down. At least, if I experienced it first hand, I might be able to help solve the problem.
The bike sailed through scrutineering and noise testing, and went OK for several laps in practice but stuttered towards the end. Was it something overheating? We swapped some electrical components, it started OK for Jenny's first race but soon played up again. We swapped some more bits, checked the carburettor one more time, and it fired up OK again, but what would happen out on the track again?
On Sunday morning I was due to go out for a test session before the first race, which I was due to ride in. Quizzing Jenny on just how the bike felt, the bike seemed to be cutting out intermittently rather than just having a misfire, so when it was reluctant to start a poor connection suggested itself, not that we had not already checked them all. With engines not allowed to be run until the test session was about to start we had to hope for the best; the bike ran OK in the warm up area but cut out completely as soon as I reached the track. Hastily back to the van, my suspicion was now firmly on the on/off switch; Lewis came over to help – it is his bike, after all – and with the aid of some spare electrical connectors that I had brought along, bypassed the switch in time for the race. But the bike was dead – no sign of life at all. Lewis then realised that he had made a mistake in the rush, we swiftly swapped a couple of wires over, and the bike fired up just in time to miss the race...
So, two races left to go, one for Jenny and one for me. And hurrah! The bike behaved in Jenny's race, but was not keeping up with the two bikes that we hoped it could compete with, and, disappointingly, the lap times were a bit slower than in practice. Oh well, at least it looked as though I would finally get a go on it after two days of playing with it in the intermittent drizzle. At least we were parked close to the cafe so tea supplies were maintained.
Come time for my race, the track was dry, so no concern over tyre performance, they were bound to be fine. I had never ridden this bike before but the warm-up lap confirmed that it felt pretty similar to my own Cub; it featured the same front brake, and stopped just as well. Starting at the back of the grid, I settled in behind one of the bikes we had hoped to beat – the other one edged away. The Cub was not quite as stable as mine in extremis, but on the last lap I was able to close up enough through the Esses to be in out-braking range at the hairpin, and hung on to cross the line a whisker ahead. Second to last instead of last, what a result! More importantly, both I and the chap I was dicing with had really enjoyed ourselves, and my lap times were comparable to my 2011 Mallory times on the Cub. So I am not quite past it yet, but Cubs really can't keep up with the Hondas, some of which are now quite ridiculously fast and dicing with 500's in some races.
And just as this confirmed that it was time to retire the Cub, someone came up and said "I'm going to race a Cub next year, that will be three of us". Er, well, we shall see...