Beer & Pretzels
30th Beer & Pretzels Games Weekend 18/19th May 2019
29th Beer & Pretzels Games Weekend 19/20th May 2018
Beer & Pretzels Map
Autumn Beer & Pretzels 14/15th October 2017 Review
28th Beer & Pretzels Games Weekend 20th & 21st May 2017
Autumn Mini B&P 2016
27th Beer & Pretzels Games Weekend, 21st and 22nd May 2016
Autumn Mini B&P 2015
26th Beer & Pretzels 2015 Review
Beer & Pretzels 2015
Autumn Mini B&P 2014
Beer & Pretzels 2014
Autumn Mini B&P 2013
Beer & Pretzels 2013
Autumn B&P - the free expansion
Autumn B&P 2012
Beer & Pretzels 2012
Beer & Pretzels 2011
Beer & Pretzels 2010
Autumn Mini B&P 2016
This year's event went very smoothly, with 108 paying entrants over the two days, and a fine variety of games getting an outing. There were several new attendees putting the games library to good use; I took the opportunity to try several recent games including Tempurra and Thief's Market, with which I was rather impressed, and made the most of the usual excellent food and well-kept Bridge Bitter. As is traditional, the players staying at the hotel got down to gaming straight after breakfast, in fact some were hard at it on Friday night. We raided the shop for a couple of tables and some extra chairs to neatly fill up the main gaming area.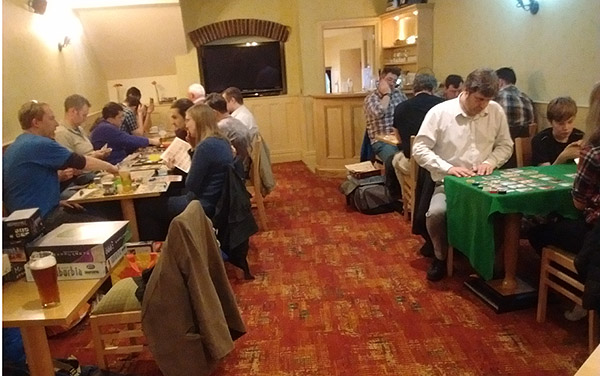 We had a small Bring & Buy by popular demand – this was in the shop's wargames room, run by the staff on the Saturday and by Simon and the Roleplayers (the popular beat combo) on Sunday as the price for borrowing the shop for their activities, this netted £12 for the Midlands Air Ambulance. Meanwhile, across the road in the hotel, a couple of new games were being demoed (the names of which escape me, sorry guys), and both Colin and Sally had a crack at the just-released Dropfleet Commander, sure to result in further battles in the shop when time permits.
All in all, we had a relaxed and pleasant time, maximum enjoyment for minimum effort, just the way we like it.
Spirit Games (Est. 1984, Lefglow Ltd) - Supplying role playing games (RPG), wargames rules, miniatures and scenery, new and traditional board and card games for the last 35 years
©Spirit Games
Contact Us | Policies | Postage and Package | Privacy | Links | Cookies | Site Map